Douglas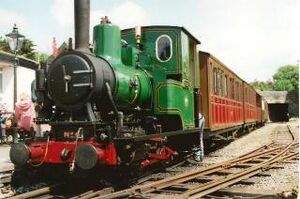 Douglas in his standard livery
Details

Years built

1918

Builder(s)

Andrew Barclay Sons & Co. Kilmarnock, East Ayrshire

Number Produced

Unknown

Years in Operation

1921-1945 RAF. 1949 bought by Abelson & Co. 1953- current Talyllyn Railway.

Fleet Numbers

Builder Number 1431, Talyllyn Railway Number 6

0-4-0WT

Number Preserved

Unknown

Number Scrapped

Unknown

Dimensions
(l × w × h)

15' 6" Long

Gauge

2'3"
V - E - T - D
Douglas is a type of 0-4-0WT narrow-gauge tank engine steam locomotive built in 1918 by Andrew Barclay and Co. Ltd. for the Airservice Construction Corps.
From 1921 until 1945 "he" worked at the RAF (Royal Airforce) railway at Calshot Spit, Southampton in the UK. After a period in storage at Calshot, he was bought in 1949 by Abelson and Co. Ltd. who eventually leased or sold him to the Talyllyn Railway in 1953.
After overhaul and alteration from 2ft to 2ft 3in gauge, he entered service in 1954 and was named "Douglas" at the donor's request. Although smaller than the other locos he has performed well and was returned to service in 1995, having been fitted with a new boiler with his old Air Ministry Works and Buildings livery.
Douglas was known for being a rough rider along the rails and had a habit for swaying and rocking along the tracks, especially in the 70's. Douglas was ideal for use on permanent way trains as well as goods and shunting duties however after some alterations, was allowed to pull passenger services such as the "Duncan Days" event. The old rock and roll style nature of Douglas is what inspired the Rev.W.Awdry to create the character, Duncan in the Railway Series books, when he was visiting the Talyllyn raiwlay.
An extensive overhaul now complete, this loco returned to service in the summer of 2013.  Making its first appearance in June at the hands of engineers, the running-in period was successfully completed and the loco handed over to the loco department in July. It is currently painted in blue with RAF emblems on both sides of it's boiler.
Has been featured in many 'Skarloey Railway' events on the Talyllyn.