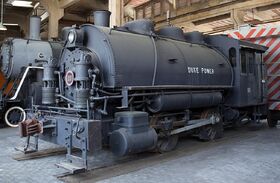 Duke Power Co. No. 111
was built by Alco in 1922 for the Duke Power Co. it is an 0-4-0T steam locomotive and sold it to the Stewart-Jones Company of Great Falls, SC, in February 1922.
In July 1924, it was sold to the Wateree Power Company, which later became part of the Duke Power Company.
Duke Power used #111 at their Mt. Holly and Cliffside plants in North Carolina, as well as at the Buck Steam Plant on the Yadkin River north of Spencer, NC. Otherwise, not much is known of its service history before 1942 or after 1953.
It is now a static display at the North Carolina Transportation Museum.
The locomotive was donated to the State of North Carolina in the late 1970's.