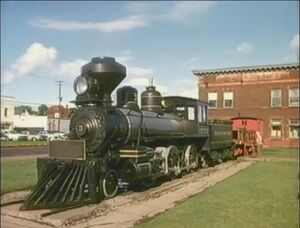 Duluth & Iron Range Railroad No. 3
is a 2-6-0 "Mogul" type steam locomotive that was built by Baldwin in 1883 for the Duluth & Iron Range Railroad.
It was intended for a railroad in Brazil at a cost of $12,000, but was refused on technical grounds and needing a locomotive to help lay rails from Two Harbors, MN., the D&IR purchased it for $9,750.
The locomotive was shipped to Two Harbors by barge and was the only wood burning locomotive ever operated on the road. It was a good choice, however, because it could take fuel from the plentiful adjacent forests, and water from the many local rivers and streams as it hauled rails, supplies and equipment from Agate Bay up to the rail head.
The locomotive was assigned to the Minnesota Iron Company in 1874, where it hauled iron ore from its Soudan mine to Two Harbors, and the company greatly contributed to the growth of the town.
It was bought by Illinois Steel in 1887 which, in 1901, became part of United States Steel Corporation. The D&IR then merged into the Duluth Missabe & Iron Range in 1938.
As heavier locomotives were introduced on the D&IR, "3 Spot" was beginning to seem unsuited for the longer trains. Surplus to requirements, it was sold to the Duluth & Northern Minnesota, another ore carrier operating out of the Missabe Range to docks at Superior, WI, and Duluth, MN, in 1899 and was renumbered #2.
Today the locomotive is on static display at The Two Harbors Depot Museum in Two Harbors, MN.