E1 Series Shinkansen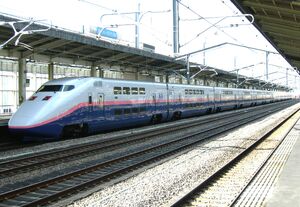 An E1 Series Shinkansen after refurbishment; noticeable because of its updated livery.
Details

Year(s) built

1994 – 1995

Builder(s)

Hitachi, Kawasaki Heavy Industries

Number Produced

72 cars (6 sets)

Formations

12 cars per set

Years in Operation

15 July 1994 – 7 December 2012

Fleet Numbers

M1 – M6

Unknown

Type of Electric Train

EMU

Dimensions
(l × w × h)

1026 in (26,050 mm) (end cars) × 135 in (3,430 mm) × 177 in (4,493 mm)

Number Operational

None

Number Preserved

1 car

Number Scrapped

71 cars

Power Source

Pantograph

Electric system(s)

25 kV AC (50 Hz)

Gauge

4 ft 8½ in (1,435 mm)
V - E - T - D
The E1 Series Shinkansen was a type of Shinkansen high-speed EMU operated by JR East. They were the first type of double-decker (or bi-level) cars created on the Shinkansen network. They are known, along with the E4 Series, as "Max" (Multi Amenity eXpress). They were originally designated as "600 Series".
The first E1 set, numbered M1, was delivered in 1994 to JR East for use decongesting the busiest lines. The sets were refurbished starting in late 2003. After refurbishment they also received a new paint scheme and new bodyside logos; they received even newer bodyside logos in August 2012, just a month or so before their retirement, to celebrate the rare hatching of ibis chicks in the wild. The E1s were retired from regular service in September 2012, and were retired altogether in December 2012.
One car, car E153-104 of set M4, the last operational set, was moved to the Saitama Railway Museum in December 2017, where it has been preserved from 15 March 2018.
Specifications
Edit
Built: 1994-1995
Builder(s): Hitachi, Kawasaki Heavy Industries
Number built: 6 sets
Formation: 12 cars per trainset
Car body construction: Steel
Car length: 82 ft (25,000 mm) (middle cars), 85 ft 6 in (26,050 mm) (head/tail cars)
Width: 11 ft 3 in (3,430 mm)
Height: 14 ft 9 in (4,493 mm)
Maximum speed: 150 mph (240 km/h)
Power: 13,200 hp (9.84 MW)
Electrical system: 25 kV AC, 50 Hz overhead wires
Collection method: Pantograph (Cars 6 and 10 hold the pantographs.)
Gauge: 4 ft 8½ in (1,435 mm)
References
Edit