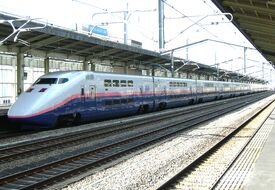 The E1 was a type of Shinkansen high-speed EMU operated by JR East. They were the first type of double-decker (or bi-level) cars created on the shinkansen network. They are known, along with the E4 Series, as "Max" (Multi Amenity eXpress). They were originally designated as "600 Series".
The first E1 set, numbered M1, was delivered in 1994 to JR East for use decongesting the busiest lines. The sets were refurbished starting in late 2003. After refurbishment they also received a new paint scheme. The E1s were retired in September 2012.
Specifications
Edit
Built: 1994-1995
Builder(s): Hitachi, Kawasaki Heavy Industries
Number built: 6 sets
Formation: 12 cars per trainset
Car body construction: Steel
Car length: 82 ft (25,000 mm) (middle cars), 85 ft 6 in (26,050 mm) (head/tail cars)
Width: 11 ft 3 in (3,430 mm)
Height: 14 ft 9 in (4,493 mm)
Maximum speed: 150 mph (240 km/h)
Power: 13,200 hp (9.84 MW)
Electrical system: 25 kV AC, 50 Hz overhead wires
Collection method: Pantograph (Cars 6 and 10 hold the pantographs.)
Gauge: 4 ft 8½ in (1,435 mm)
References
Edit
Ad blocker interference detected!
Wikia is a free-to-use site that makes money from advertising. We have a modified experience for viewers using ad blockers

Wikia is not accessible if you've made further modifications. Remove the custom ad blocker rule(s) and the page will load as expected.