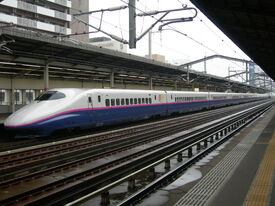 The E2 series Shinkansen is a Japanese high-speed EMU operated by JR East. They are formed in 8- and 10-car sets. The 10-car sets can be coupled to E3 Series sets using couplers hidden behind retracting nose doors.
The first E2s were delivered to JR East in 1997. The 8-car "N" sets and the 10-car "J" sets are used on different lines. A new subclass (Class J50) is being developed.
A version of the E2 was ordered by China. It is called the CRH2.
References
Edit
Ad blocker interference detected!
Wikia is a free-to-use site that makes money from advertising. We have a modified experience for viewers using ad blockers

Wikia is not accessible if you've made further modifications. Remove the custom ad blocker rule(s) and the page will load as expected.