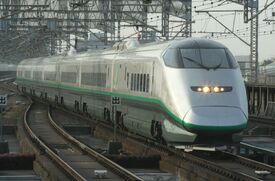 The E3-Series Shinkansen is a high-speed EMU in Japan. It was built from 1995–2010 for the Komachi service on the Akita line owned by JR East.
Very similar in design requirements to the 400-Series, the E3 was designed to be narrower and lighter than main-line Shinkansens for the Akita line, that was up-graded and re-gauged to fit the rest of the Shinkansen network by 1997.
The first E3-Series to be made was a pre-production unit numbered S8. This 5-car set was delivered from Kawasaki Heavy Industries in March 1995 for testing. By March 1997 it was modified to production standards.
R (E3) sets
Edit
These 5-car sets, later modified to 6-car sets in 1998, were the first production sets. They were numbered R1 to 16, and produced between 1996 and 2005. Cars 12 and 15 held the pantographs.
E3-1000 sets
Edit
Three of these 7-car sets were built between 1999 and 2005. Numbered L51-53, they work on the Yamagata line. Cars 12 and 14 held the pantographs.
E3-2000 sets
Edit
These 7-car sets were built between 2008 and 2010. Numbered L61 to 72 they are to have replaced the 400-Series completely by 2009. Cars 12 and 14 hold the pantographs.
Specifications
Edit
Built: 1995-2010
Builder: Kawasaki Heavy Industries, Tokyu Car Corporation
Number built: 41 sets
Formation: 6 to 7 cars per set
Capacity (people): R sets: 338 (315 standard + 23 Green (luxury) class),
E3-1000 sets: 402 (379 standard + 23 Green (luxury) class),
E3-2000 sets: 394 (371 standard + 23 Green (luxury) class)
Car body construction: Aluminum
Car length: 65 ft 9 in to 75 ft 8 in (20,050 mm to 23,070 mm)
Width: 9 ft 8 in (2,945 mm)
Maximum speed: 171 mph (275 km/h) (Tohoku line), 81 mph (130 km/h) (Akita/Yamagata lines)
Electrical system: 20/25 kV AC, 50 Hz overhead wires
Collection method: Pantograph
Gauge: 4ft 8½ in (1,435 mm)
References
Edit
Ad blocker interference detected!
Wikia is a free-to-use site that makes money from advertising. We have a modified experience for viewers using ad blockers

Wikia is not accessible if you've made further modifications. Remove the custom ad blocker rule(s) and the page will load as expected.