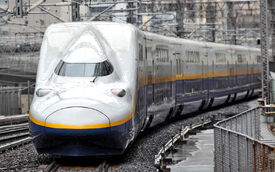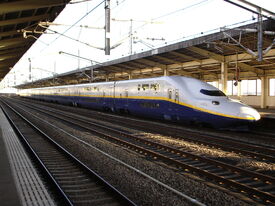 The E4-Series Shinkansen is a high-speed EMU in Japan. Essentially an up-date of the E1-Series, the E4 was built between the 1997-2003 for JR East. They operate on the Tohoku and Joetsu lines. They have been operated on the Nagano line as well.
The E4 is a double-decker or bi-level train. It is designed to operate on lines, and at times, that are busy. Basically it is two trains in one, to help stop congestion of the lines. P51 and P52, early 2001 sets, were designed to run up steep gradients, since the Nagano line has such grades. P81 and P82 were designed for gradients and to run under both 50 Hz and 60 Hz. Meaning that they can run on both sides of the island of Honshu (main isle).
The first set (P1) was delivered on the 8th of October 1997. Early sets entered service from the 20th of December 1997. They are to be retired from service in 2016, oddly at the same time as the E1 sets. In April 2014 it was heard it was going to have a new livery just like the E1's livery.
Specifications
Edit
Built: 1997-2003
Builder(s): Hitachi, Kawasaki Heavy Industries
Number built: 26 sets
Formation: 8 cars per trainset
Car body construction: Aluminum
Car length: 82 ft (25,000 mm) (middle cars), 84 ft 4 in (25,700 mm) (head/tail cars)
Width: 11 ft 1 in (3,380 mm)
Maximum speed: 150 mph (240 km/h)
Power: 9,010 hp (6.72 MW)
Electrical system: 25 kV AC, 50 Hz (50/60 Hz for P81-82) overhead wires
Collection method: Pantograph (Cars 4 and 6 hold the pantographs)
Gauge: 4 ft 8½ in (1,435 mm)
References
Edit
Ad blocker interference detected!
Wikia is a free-to-use site that makes money from advertising. We have a modified experience for viewers using ad blockers

Wikia is not accessible if you've made further modifications. Remove the custom ad blocker rule(s) and the page will load as expected.