E6-Series Shinkansen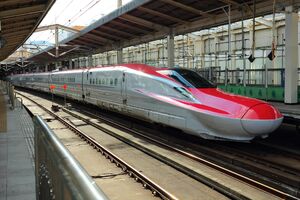 This is E6-Series set S12.
Details

Years built

2010–present

Builder

Hitachi, Kawasaki Heavy Industries.

Number Produced

1 set currently.

Years in Operation

Unknown

Fleet Numbers

Unknown

Unknown

Type of Electric Train

EMU

Number Operational

1

Number Preserved

0

Number Scrapped

0

Power Source

Pantograph

Dimensions
(l x w x h)

75 ft 8½ in (23.075 metres) (end car) x 67 ft 3 in (20.5 metres) x 9 ft 7.9 in (2,945 mm)

Gauge

4 ft 8½ in (1,435 mm)
V - E - T - D
The E6-Series Shinkansen is a high-speed EMU in Japan. Built since 2010 for JR East, it is designed to work on the Akita line. The first set, (pre-production set S12), was delivered in June 2010. Testing began the following month. Passenger services are set to start in March 2013.
The E6 was designed to replace the E3-Series trainsets that currently work the Akita line, which is a recently upgraded line from narrow- to standard-gauge. This means that the trains have to be narrower to run on this line.
Specifications
Edit
Construction of aluminium alloy, and a single set can cater for 338 (315 standard + 23 green class) passengers. The end cars are 75 foot 8½ inches (23 meters) long, and the intermediate cars are shorter at 67 foot 3 inches (20.5 meters) long. Top speed is 200 mph (320 km/h) on the Tohoku line, but less on the Akita line at 81 mph (130 km/h). The sets are dual current and can run on either the 20 or the 25 kV AC, 50Hz lines.
References
Edit
Ad blocker interference detected!
Wikia is a free-to-use site that makes money from advertising. We have a modified experience for viewers using ad blockers

Wikia is not accessible if you've made further modifications. Remove the custom ad blocker rule(s) and the page will load as expected.