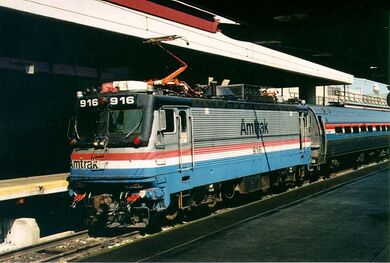 The
AEM-7
is a result of a industry-changing partnership between EMD and ASEA, in which the locomotive would be built using multiple suppliers. In 1978 EMD began production. The car-bodies were manufactured by Budd, electrical, trucks and traction motors came form ASEA, All other aspects built by EMD. Amtrak ordered 30 AEM7's in 1978.The first AEM7 entered service in 1979. All were originally built with DC traction propulsion. in 1999, Amtrak and Alstom began a re-manufacturing program for Amtrak AEM-7s. Alstom supplied AC traction equipment, electrical cabinets, transformers, HEP, and cab displays. The rebuild provided Amtrak with locomotives that had higher tractive effort. Amtrak workers performed the overhauls under Alstom supervision at Amtrak's shop in Wilmington, Delaware. Currently all Amtrak AEM-7DCs have been retired with #915 being preserved at the Railroad Museum of Pennsylvania in Strasburg, PA. Only a small handful of AEM-7ACs are still in revenue service and all are soon to be retired. AEM-7s have earned the nicknames "Toaster Ovens" and "Meatballs" due to their box-like shape and their Swedish heritage.
[Photo credit: Wikipedia]
Amtrak AEM7 900 and 903 were destroyed in a fatal collision with a Conrail freight train in Maryland.
Amtrak AEM7 913 was heavily damaged by fire in November 2000 and then removed from the active roster in February 2003.
Amtrak AEM7 930 was damaged by fire on June 29, 2003 at Elkton, MD.
Amtrak AEM7 922 was also seriously damaged by fire on July 8, 2003.
Amtrak AEM7 910 caught fire on October 5, 2007.
Amtrak AEM7 911 was seriously damaged by fire at the Wilmington, DE station on April 6, 2011 while leading the Silver Star northbound.
Two of these units have been preserved: ex-Amtrak #915 at the Railroad Museum of Pennsylvania, and #945 at the Illinois Railway Museum, respectively.