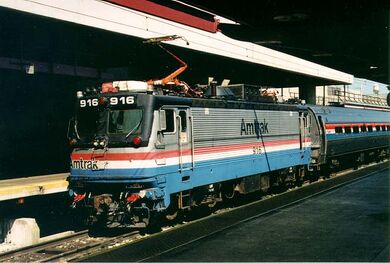 The AEM7 is a result of a industry-changing partnership between EMD and ASEA, in which the locomotive would be built using multiple suppliers. In 1978 EMD began production. The car-bodies were manufactured by Budd, electrical, trucks and traction motors came form ASEA, All other aspects built by EMD. Amtrak ordered 30 AEM7's in 1978.The first AEM7 entered service in 1979. All were originally built with DC traction propulsion. in 1999, Amtrak and Alstom began a re-manufacturing program for Amtrak AEM-7s. Alstom supplied AC traction equipment, electrical cabinets, transformers, HEP, and cab displays. The rebuild provided Amtrak with locomotives that had higher tractive effort. Amtrak workers performed the overhauls under Alstom supervision at Amtrak's shop in Wilmington, Delaware. Currently all Amtrak AEM-7DCs have been retired with #915 being preserved at the Rail-Road Museum in Strasbourg, PA. Only a small handful of AEM-7ACs are still in revenue service and all are soon to be retired. AEM-7s have earned the nicknames "Toaster Ovens" and "Meatballs" due to their Box-Like shape and their Swedish heritage.
Photo: Wikipedia
Ad blocker interference detected!
Wikia is a free-to-use site that makes money from advertising. We have a modified experience for viewers using ad blockers

Wikia is not accessible if you've made further modifications. Remove the custom ad blocker rule(s) and the page will load as expected.