The E units were a series of express passenger locomotives built by EMD from 1937 to 1963. They were extremely successful machines with a long production life and some still remaining in service today.
All of the EMD E units are descended from EMC 1800hp B-B(the E originally stood for eighteen-hundred horsepower), it was extremely similar mechanically to the original E but had a more basic carbody and simpler AAR Type B trucks(the Es had blomberg A1As). The Es, EAs, EBs and E2s were fitted with two Winton 201-A marine engines, which were unreliable in comparison to the later 567 engines and one engine often had to be repaired while the other one was powering the train. While bearing different names, all versions were practically the same. Through 1939 the E3, E4,
E5
and
E6
entered production with the then new EMD 567 engine, which was used in all subsequent locomotives until the introduction of the 645 in 1966. Again these E units had little difference between them but, because of the new engine, were now capable of producing 2,000 horsepower. Due to World War II, E unit production ceased for two years from 1942-45, however EMD made a smashing return to the market with the new E7 which became the best selling of all the E units. Bearing an imp
roved pair of 567As capable of producing 2400 horsepower, they took the market by storm as steam traction was abandoned in favour of the streamlined diesel. This was followed up with the lower powered E8 in 1949. Then, in 1954, EMD released the E9 retaining the 2400 horsepower rating but with the new 567C engine. In 1964 the production of the E9 ended and it was replaced by the EMD FP45 which, like all future passenger engines, was simply based on an existing freight loco. This brought to an end 3 decades of innovation from an 1800 horsepower boxcab to an iconic passenger locomotive.
Later Years
Edit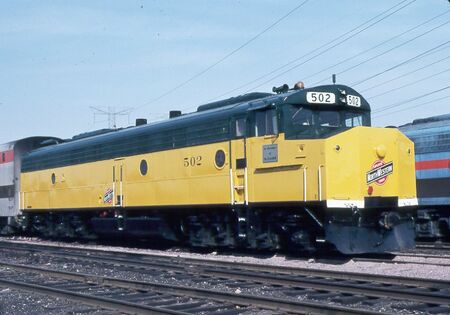 For several decades after, E units remained in passenger service across the United States, with many surviving into Amtrak and Conrail ownership. Many wound up regeared for freight service and wound up on mixed freight trains, others were fitted with HEP generators and worked commuter services, even some B units ended in this role with "Crandall Cabs" added by the Chicago and North Western. This continued success showed the quality of EMD's design and are a major reason for them being such a big player as they are today.
Ad blocker interference detected!
Wikia is a free-to-use site that makes money from advertising. We have a modified experience for viewers using ad blockers

Wikia is not accessible if you've made further modifications. Remove the custom ad blocker rule(s) and the page will load as expected.