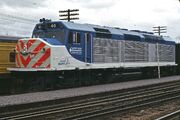 The EMD F40C is a six-axle passenger locomotive built by General Motors Electro-Motive division for commuter service on Milwaukee Road. These eventually ended up in Metra's fleet. Only 15 were produced, and they were rated at 3,200 hp. Aside from a few HEP-equipped SD70MAC locomotives operating in Alaska, the F40Cs are the last regularly operating six-axle passenger locomotives in North America.
It is similar to the SDP40F in almost every aspect, aside from using standard bolster trucks and HEP generators instead of steam generators.
Only 2 units remain in Metras roster, 611 and 614. They are planned to be rebuilt and will be classified as F40C-T3. The rest of the locomotives have been replaced by Metra's MP36PH-3S locomotives, delivered in 2003.
Along with a small fleet of HEP-equipped EMD SD70MAC locomotives operating on the Alaska Railroad, the F40Cs are the last six-axle passenger locomotives in daily service in North America.