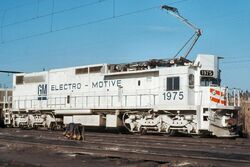 The EMD GM6C was an experimental high-powered C-C electric locomotive, produced by EMD in 1975. It used a frame and running gear setup identical to that of the SD40-2. It developed a diesel equivalent of 6,000hp.
Like the GM10B; its high-speed B-B-B cousin, it was the only locomotive of its kind produced. The GM6C was intended for low to medium speed freight drag service in the eastern United States. However, when interest in electrified freight services ceased, the locomotive was sidelined, and eventually scrapped.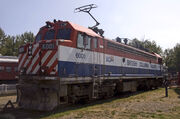 BC Rail purchased seven similar locomotives; known as GF6C's, for heavy-haul coal drag service on the Tumbler Subdivision in northeastern British Columbia. They were designed and manufactured by EMD's Canadian subsidiary GMD and Sweden's ASEA during the 1980's, and operated until around 2000.
The GF6C was mechanically identical to the GM6C, but had a cowled carbody and a three-window Canadian Safety Cab. They were also equipped with ASEA-designed high-tension pantographs, drawing current from a 50 kV catenary. The internal construction and wiring was made entirely modular to ease repairs and maintenance, since it was so difficult to ship new parts so far up north.
Before being scrapped, the lone GM6C became a load-test unit for EMD's LaGrange, Illinois shops.
One GF6C, number 6001, has been preserved on static display. This unit is special in that it was used as the test locomotive for Tumbler Subdivision operations, fitted with numerous sensors and paired with a test car for almost a year before coal service kicked in. It remains close to home, at the Railway and Forestry Museum in Prince George, BC.
The GM6C, along with its cousin the GM10B, is one of the only types of electric locomotives ever built entirely by EMD. Other companies collaborated with EMD to produce types such as the AEM-7 under license.
External Links
Edit
YouTube: Proto 2000 electric locomotive >>[1]