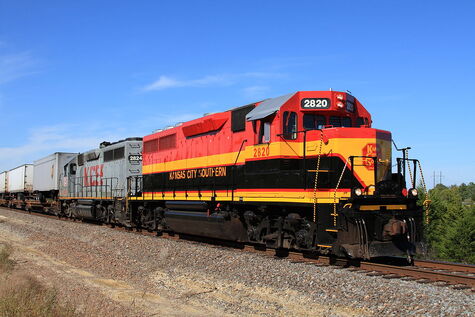 The GP22ECO/GP22ECO-M was the first variant in EMD 710 ECO repower program, the program launched by EMD in 2008, was targeted at rebuilding older GP38-2's, since OEM builders have not out shopped a 4-axle locomotive in 25+ years. The EMD ECO program has since branched out to other models. The core unit receives a rail up rebuild. The old 645 prime mover is removed and a new 8–710G3A–T2 prime mover is installed. The units also receive new micro processors, cabs and carbodies are refurbished, and new parts (alternator) are installed. This yields a 25+% reduction in fuel usage and brings to locomotive up Tier 2 standards. 
How to decode this EMD ECO designation. 
GP- General Purpose (core unit)
2- 2,000 hp 
2- Tier 2 emissions 
ECO - repowered w/ 710 ECO prime mover
M- Is a mother in a mother/slug pair
EMD rebuilt to core units into the two 710ECO demostrators. EMDX 7101 and EMDX 7102 both GP22ECO's. The 7102 has since been sold to Ferromex. 
KCS was the first customer for the GP22ECO/GP22ECO-M order its first units in 2009. There are currently 9 GP22ECO's on KCS's roster and 5 on KCSM's roster.
NS has converted three GP38 cores to GP22ECO's NS 5900 and 5901 were converted in 2011, a third unit NS #5301  was converted in August 2013, this unit is still classed a GP38-2 by NS.

Tacoma Rail had two locomotives (2200 & 2201) converted in 2012.
Ad blocker interference detected!
Wikia is a free-to-use site that makes money from advertising. We have a modified experience for viewers using ad blockers

Wikia is not accessible if you've made further modifications. Remove the custom ad blocker rule(s) and the page will load as expected.