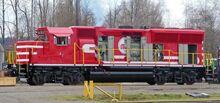 The GP31ECO is another variant in EMD's ECO locomotive conversion catalog. The locomotive is the first EMD ECO to utilize a 3,000 hp 8-710ECO prime mover. The locomotives are EPA Tier 1 compliant. So far two conversions have been conducted, both for Southern Peru Copper. #70 and 71 were rebuilt from GP40 cores, possibly of UP lineage. The locomotives emerged from Progress Rail's Tacoma shops in March and April 2013. 
Decoding this EMD ECO Designation
GP- General Purpose (core)
3- 3,000 hp
1- EPA Tier 1 emissions
ECO- EMD ECO locomotive
Ad blocker interference detected!
Wikia is a free-to-use site that makes money from advertising. We have a modified experience for viewers using ad blockers

Wikia is not accessible if you've made further modifications. Remove the custom ad blocker rule(s) and the page will load as expected.