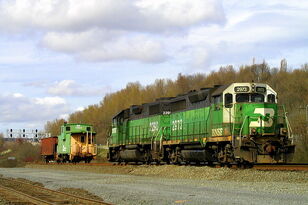 The GP39 was a locomotive eclipsed by the success of the GP38 and 40 lines. The GP39 sold only 23 units durring its entire pre-Dash 2 production run. C&O purchased all 23 units. This locomotive model utilizes a 12-645E3 prime mover that is capable of producing 2,300 hp. The GP39 was originally absent from EMD's Dash 2 catalog. The GP39 was only reintroduced in Dash 2 form after ATSF requested a turbocharged medium horsepower locomotive.
The GP39-2 fared better in the market place: 220 GP39-2s were sold. Most of the non-Dash 2 GP39s have been retired.
The GP39X was an experimental locomotive that was designed to test 50 Series components. Six EMD-owned locomotives were built and in full SOU garb. These units were later converted to GP49 standards.
Also, two GP39DC's were produced; the GP39 had an A.C. alternator as standard equipment, however Kennecott ordered two GP39's with D.C. generators.
Who bought what?
Edit
GP39
C&O (QTY:20) #'s 3900-3919.
Kennecott Copper Company (QTY:2) #1 and 2 Carry serial #'s 36792 and 36793 9, EMD order #5764
ATSF (QTY:106) #'s 3600-3705
BN (QTY:40) #'s 2700-2739
D&H (QTY:20) #'s 7601-7620
Kennecott Copper (QTY:33) #'s 3, 705-711, 779-799, 905
MKT (QTY:20) #'s360-379*
Phelps Dodge (QTY:1) #33
RDG (QTY:20) #'s 3401-3420
*MKT's built new units were housed GP49 carbodies. MKT Later went on to buy 8 Ex- Kennecott Copper GP39-2's.
Ad blocker interference detected!
Wikia is a free-to-use site that makes money from advertising. We have a modified experience for viewers using ad blockers

Wikia is not accessible if you've made further modifications. Remove the custom ad blocker rule(s) and the page will load as expected.