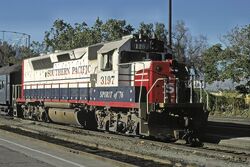 The EMD, Electro Motive Division, GP40P-2 is a type of four-axle, 3,000hp, diesel locomotive built specially for the Southern Pacific railroad in 1974.
It is a rare version of the GP40, with only three built (SP #3197–3199), but all remain on the Indiana Harbor Belt and Union Pacific railroads.
The GP40P-2, is similar to the GP40P built for the Central of New Jersey railroad in the late-1960's; the frame is slightly longer, making the locomotive longer as well. They were built specifically for commute service on the Southern Pacific south of San Francisco, California.  They were occasionally used for freight service before eventually being converted by the 1980's.
Since the 1980's, they've had their steam generators removed, and have since been rebuilt to GP40-2 specifications; assigned to yard and local service, as well as hauling local freight trains to various yards and industries. And as of 1996, they were still in-use when the Union Pacific purchased and absorbed the Southern Pacific, yet #3197 was sold to the Indiana Harbor Belt Line sometime after.
That same unit, #3197, was specially repainted to celebrate the 200th anniversary (bicentennial) of the US in 1976. Shortly after, in 1983, it was repainted to SP's "bloody nose" scheme, just before the trio were renumbered SP #7600–7602.
UP #1375; one of the GP40P-2's; has been stationed in various yards throughout southwestern Texas and California, while UP #1373 has been stationed throughout Nebraska, Oklahoma, and is seen in Arkansas and parts of northern Texas as well. UP #1373 has been in service in Brigham City in July 2017.
Indiana Harbor Belt (IHB) #4010 was the former bicentennial unit (SP #3197), and had its rear generator compartment removed and replaced when it was repainted into IHB's scheme.
http://espee.railfan.net/spgp40p-2.html 1373 remains in service in Colorado, and is based in LaSalle Co on 12/23/2013
Ad blocker interference detected!
Wikia is a free-to-use site that makes money from advertising. We have a modified experience for viewers using ad blockers

Wikia is not accessible if you've made further modifications. Remove the custom ad blocker rule(s) and the page will load as expected.