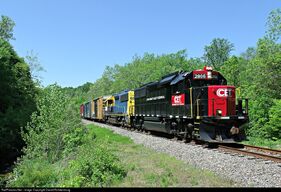 The GP49 was a "stepping stone" locomotive to fill the void between the GP40 and GP50, this unit is very rare as only nine were built, all for the Alaska Railroad. These units utalize 12-645F3B prime movers and achieve 2,800 hp. Five units were auctioned off in 2007 to Helm. Three of these units were bought in 2014 by the start-up shortline Cincinnati East Terminal Railway (CCET). These units are 2803, and 2806-07. In addition to the Alaska units 5 GP39X's were built for the Southern, and shortly after their debut, they were upgraded to GP49 standards. The SOU GP49's eventually were rebuilt by Mid America Car in KC, and wound up on Tri Rail. These units are now starting to be retired as BL36PH locomotives (built by Brookville) started arriving in September 2013.
SD49 units were never built, but two GP49s were converted into SD49s.
Ad blocker interference detected!
Wikia is a free-to-use site that makes money from advertising. We have a modified experience for viewers using ad blockers

Wikia is not accessible if you've made further modifications. Remove the custom ad blocker rule(s) and the page will load as expected.