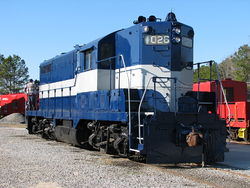 The EMD (Electro Motive Division) GP7 is a four-axle 1,500hp diesel locomotive built from 1949 to 1954.
Many railroads have owned this type of diesel locomotive, as well as many being preserved due to their historic value.
The EMD GP7 lived-on until the 1980s when most railroads began replacing GP7s and their counterparts (GP9 , GP10, GP12, etc.) for much larger, affordable, and powerful GP40, GP50, and GP60 four-axled units from EMD. (Aside from four-axled "B-type" Universal and Dash 7 Series diesel locomotives from GE.)
Many GP7s are either preserved in museums or operate on shortline railroads. However, CN/CP still roster a few.
There are several different versions of the GP7, including several counterparts built from GP7s. (as with the GP38s and GP40s.)
GP11 (Rebuilt or upgraded version of the GP7)
GP7u (Modified cab)
GP7R (Canadian version)
GP7B (Cabless version)
GP8 (Modified or rebuilt version of the GP7)
ITC #1605, CNW #4160, and CNRY #55 are some of the very first and heaviest GP7s ever built that are preserved at the Illinois Railway Museum in Union, Illinois and the Lebanon, Mason, and Monroe Railroad (CNRY) in Lebanon, Ohio. CNRY #55 is the oldest GP7 still operating.
The GP7 is bound to be around a while longer, as many parts are interchangeable. Example: A D87 traction motor is interchangeable with a GP7 motor.
The GP7's, along with the next descendants of the GP family, were nicknamed "Geeps", which is reasonably obvious.