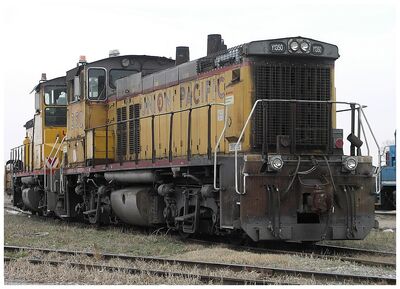 The EMD MP15 is a light road switcher that was built between 1974 and 1980. It came in two flavours, the MP15DC and the MP15AC. It was billed as replacement for the EMD SW1500 and extremely similar both mechanically and in appearance (It was, in fact, based on the special order SW1504).
Technical Data and Specifications
Edit
Unlike its predecessor, it was fitted with Blomberg B trucks, this is why it's classed as a road switcher rather than a traditional switcher (the MP stands for
M
ulti
P
urpose). The frame was 47ft 8 inches long to accomodate the larger Blomberg B trucks. Providing the power was an EMD 12-645E outputting 1,500hp to an EMD D32 generator in the MP15DC or an AR10 alternator in the MP15AC. On the MP15DC the output of the generator was fed straight into the D77 traction motors however on the MP15AC it had to be rectified first as it's highly inefficient to run traditional traction motors on AC. On both the top speed was a reasonable 60 mph. Another difference between the MP15DC and the AC was the cooling system, which was identical to the SW1500's in the case of the DC but was replaced with side mounted intakes on the AC which allowed it to pull in cooler air than the traditional front mounted intake, this proved to be a good choice as it was far more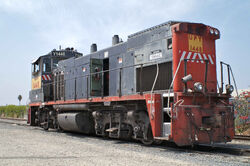 reliable than the DC's cooling system.
NS Rebuild Program
Edit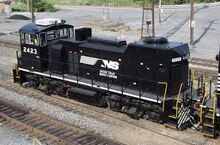 The MP15E is a rebuild of an MP15DC as part Norfolk Southern's rebuild program. As part of the rebuild the original EMD D32U generator is replaced with a remanufactured AR10 generator from powerrail distribution and an EMD D14 alternator is added to provide current to excite the main generator. The 12-645 prime mover is rebuilt as well as the trucks, and the carbody. The units are rebuilt to EPA Tier 0+ standards. Elcon microprocessors are used. So far 18 MP15E's have been outshopped from Juniata and Roanoke.