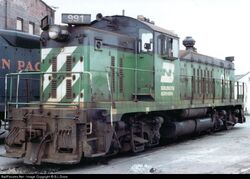 The EMD NW5 was a 1,000 hp switcher which was built from 1946 to 1947. Only 13 were built, 10 being delivered to the Great Northern Railroad, 2 to the Union Belt of Detroit and 1 to the Southern Railway. They were well capable of road service thanks to their Blomberg B trucks, road size fuel tanks and steam generator for heating passenger cars.
Technical Data
Edit
The EMD NW5 was fitted with an EMD 12-567A of 1,000 b.h.p and Blomberg B trucks giving it a Bo' Bo' wheel arrangement. The frame was longer that the NW2 and 3 that preceeded it giving space for the larger fuel and water tanks that allowed for road service.
Ad blocker interference detected!
Wikia is a free-to-use site that makes money from advertising. We have a modified experience for viewers using ad blockers

Wikia is not accessible if you've made further modifications. Remove the custom ad blocker rule(s) and the page will load as expected.