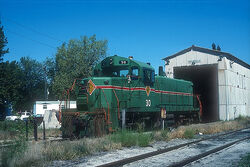 The EMD; Electro Motive Division, RS1325 is a type of four-axle 1,325hp diesel locomotive built in 1960.
Only two were built, and were originally prototypes which were sold to the C&IM (Chicago & Illinois and Midland) railway shortline (or Class 3 railroad) as numbers 30 and 31.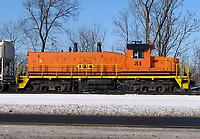 The EMD RS1325 was originally constructed as a type of lightweight switching locomotive, which was originally offered to the Chicago And Northwestern railroad to be built in a decent number of 35 for operation in Chicago for their passenger coach yards. But because of being deemed too small and light-weight for their yards, the CNW; however, denied the offer after numerous tests and demonstrations with the two original prototypes which were eventually sold to the Chicago And Illinois Midland Railway shortline as some of their first diesel locomotives owned after their steam retirement shortly before in 1959 during the End of the Steam Era in the United States. Interestingly, the C&IM never served Chicago, but was named after it's parent companies: Chicago Edison Power and Illinois Midland Coal Co.
The only RS1325's ever built are still in service today on the C&IM, which became the Illinois and Midland railroad after being purchased by G&W in 1996. Both units now wear G&W orange, yellow and black.
Both RS1325's have only been repainted once, despite having newer lettering before being repainted.
The RS1325 was designed and named like an ALCO diesel locomotive, and resembles one as well, only with an SW7 body and GP9R (Canadian-built) or GP9u's (modified GP9) cab.
The overall design is also reminiscent of an earlier EMD NW5 switcher.
The RS1325 was also originally offered as an American-built version of a Canadian-built GMD-1 light switcher.