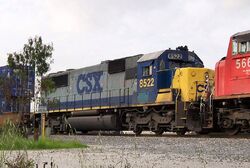 The EMD, Electro Motive Division, SD50 is a 3,500/3,600 hp, six-axle, diesel locomotive built between 1980–1987.
There were 427 units built. Many are still in service, albeit rebuilt or downgraded.
The EMD SD50 was originally designed to be a successor to the EMD SD40 line, but it actually had more problems than it solved. The problems resulted in having brake problems, jammed engine pistons, and poor fuel efficiency, suffering numerous engine failures, also during testing at EMD (prior to delivery) were written up with at least 25 defects per unit. This locomotive is often cited as the unit that doomed EMD's dominance over GE. Many SD50's are being rebuilt by NS (SD40E) and CSX (SD50-2,SD50-3), these rebuilds have the units rated at 3,000 hp essentalily creating New era SD40-2's.
Conrail, Norfolk Southern, CSX (including Chessie System and Seaboard System before the merger) Union Pacific, Missouri Pacific, Chicago and Northwestern, Canadian National, Denver and Rio Grande Western, Hamersley Iron, and Kansas City Southern were the railroads to purchase the SD50.
The EMD SD50 was also one of the very first North American diesel locomotives to have microprocessor controls (besides GE's Dash 8 line). Such as having a digital speedometer, automatic engine starters, etc. (yet most veteran railroad crews; as of then prefer to start locomotives manually as of today).

CSX has actually downgraded the majority of their 3,500hp SD50's, to 3,000hp or 2,500hp SD50-2's, as well as Norfolk Southern; only being named the SD40E.
The Canadian version of the SD50 is the SD50F ,while the prototype are the SD40X and, later, SD50S ("S" for short, presumably).
The SDL50, a foreign version of the SD50 built for Saudi Arabia, mounts a special air intake for dust filtering on the long hood behind the cab.
During the time of the CSX merger (and shortly before), the railroad used their early fleets of former Chessie System (C&O; to be more specific) SD50 units as rear-end helpers in the Cumberland, Maryland mountain range areas where steep graded coal drags or coal trains required extra help and were often lead or hauled by various four-axle diesels at the time, which tended to be severely strained. This was all before the SD60's introduction; when four-axle mainline power became endangered.