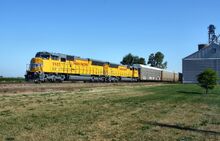 The EMD SD59M-2  (otherwise known as the SD32ECO or SD59MX; being the Union Pacific designation) is a type of rebuilt, six-axle 3,150hp diesel locomotive rebuilt by EMD from 2009 to 2011, with production resuming in mid-2012. 25 have been built for the Union Pacific Railroad, rostered as UP [tel:9900-9924 9900-9924]. UP 9900 has been fitted with catalysts to attempt to reach Tier 4 emissions requirements. Union Pacific ordered 3 more SD59MX's for early 2015 delivery.
Statistics
Edit
The SD59MX used Phase 2 SD60M's as cores, with Phase 1 SD60M's soon to follow.
The SD59MX has several new features and improvements, including:
Automated controls and computer displays
Electronic fuel injectors
Remote control abilities (rarely used unless serving as a yard unit)
Low-emission/energy efficient engine
EPA Tier 2 compliance
Fuel savings up to 25%
Lube oil savings up to 50%
Upgradeable software can be tuned for reduced emissions or improved fuel efficiency
Microprocessor control offers diagnostics, wheel slip control, and optimal wheel/rail adhesion
184-day maintenance cycle instead of the usual 92-day
15,000 MWh overhaul cycle
Reduced maintenance expense due to use of V12-710G3C-T2ECO prime mover.
Automatic Engine Start/Stop system keeps locomotive ready without wasting fuel
The SD59MX is also known as an SD32ECO, but is used as an alternate name from EMD.