EMD SD70ACe-T4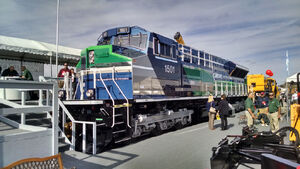 EMDX 1501 SD70ACe-T4. Photo by Jim Wrinn.
Details

Years built

2015-

Builder

Electro-Motive Diesel

Number Produced

65+

Formations

Unknown

Years in Operation

Unknown

Fleet Numbers

Union Pacific: (assumed to be) 3000-3087, 3013 already delivered

SD70ACe-T4: C-C SD70ACe-P4/T4: B1-1B

Type of Diesel Train

Unknown

Number Operational

As of December 31, 2016; One operational on Class I freight

Number Preserved

0

Number Scrapped

0

Dimensions
(l × w × h)

76' 8"x 10' 6"x 15' 11"

Prime mover(s)

Unknown

Gauge

Standard (4' 8.5")
V - E - T - D
The EMD SD70ACe-T4 is a diesel-electric locomotive built by Electro-Motive Diesel. This Tier 4 compliant version of the EMD SD70ACe boasts the new twelve-cylinder 12-1010J prime mover built to conform the the EPA's Tier 4 pollution regulations, as well as new features that include individual axle control (a feature carried over from a previous model, the SD70ACe-P6, now a standard feature,) enhanced AC traction motors, and a more modern cab design.
The EMD SD70ACe-T4 was born out of necessity, with EPA Tier 4 regulations beginning January 1, 2015. EMD had to design a new locomotive to meet these standards. The SD70ACe-T4 began mass-production starting mid-2016, with the first unit being delivered in early November 2016, this unit being Union Pacific no. 3013. The rest of Union Pacific's first order of 88 are assumed to be numbered 3000-3087. This order will consist of all existing demonstrator locomotives (except 1501 and SD70ACe-P4/T4 demonstrators.) Many of the Union Pacific units have been in circulation system-wide. Despite this some units are being sent to the Muncie plant for work; a portion of the units are still sitting sidelined.
Union Pacific has been the only railroad to so far purchase the SD70ACe-T4, all other roads have gone with GE's options (the ET44AC and ET44C4).
Operators
Edit
Union Pacific: (QTY: 88) #3013, (assumed to be) 3000-3087
Variants
Edit
SD70ACe-P4/T4: SD70ACe-T4 with four powered axles. B1-1B truck arrangement. The two axles nearest to the fuel tank are unpowered.