This article is a stub. You can help Locomotive Wiki by expanding it.

The EMD, Electro Motive Division, SD80ACe is a six-axle, 5,000hp AC-traction diesel locomotive that is currently being produced as of early 2012, with the prototypes produced in late-2011.
This locomotive was only produced for the mining company Vale. Internally, it is similar to the SD80MAC, although the SD80ACe features a Tier 1-compliant engine. Externally, the locomotive's body is an extension of the SD70ACe's body.
The type of locomotive was recently announced due to it receiving its first orders from the Latin American railroad Vale, as opposed to being revealed immediately when it was first introduced like with other EMD diesel locomotives.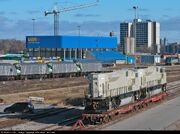 Ad blocker interference detected!
Wikia is a free-to-use site that makes money from advertising. We have a modified experience for viewers using ad blockers

Wikia is not accessible if you've made further modifications. Remove the custom ad blocker rule(s) and the page will load as expected.