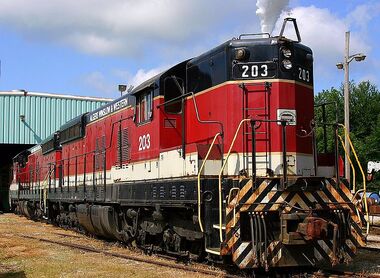 The
EMD SD9
six-axle
diesel locomotive
was the successor to the SD7 in EMD's catalog, developed alongside its 4-axle counter part, the 
EMD GP9
. The SD9 utilized a 16-567C prime mover generating 1,750 hp.  It was relatively popular, with 171 units for US roads,and 44 for export. 
BNSF rosters several SD9s, with lowered hoods used for switching
NS used to own four Algers, Winslow and Western SD9s which were former Central of Georgia units. The four NS SD9;s have since been sold.
Some of the late production models had two 48-inch cooling fans like the SD18 and SD24 instead of four 36-inch cooling fans.
References
Edit