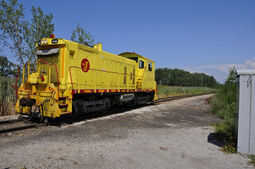 The
EMD SW1000
is a diesel switcher locomotive produced by General Motors Electro-Motive division. 119 units were produced for 27 railroads. The SW1000 has an 8-cylinder EMD 645E roots-blown engine, providing 1000hp. Has the same frame as the SW1500.
Most units are still in service. Some have been sold secondhand to other operators.
VIA Rail Canada (Canada's passenger rail carrier) operates 2 SW1000s, originally belonging to Inland Steel.
Operators who purchased units new from EMDI:
Edit
Altos Hornos (Mexico) (QTY:2) #132,137
Anahuac Cement:(QTY:1) No number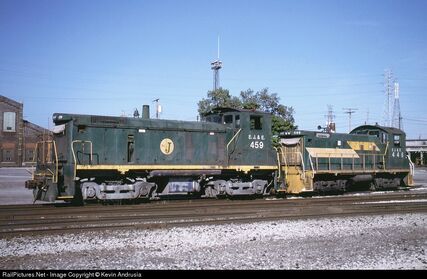 Appalachian Power (QTY:1) #1
Armco Steel (QTY:1) #B81
Birmingham Southern (QTY:8) #10-17
Burlington Northern (QTY:43) #375-394, 427-449
Chicago Burlington and Quincy (QTY:12) #9310-9321
Chihuahua Cellulose (Mexico) (QTY:1) #1811
Corn Products (QTY:2) #68-69
Cuyahoga Valley (QTY:1) #1050
Denver and Rio Grande (QTY:10) #140-149
Detroit Edison (QTY:1) #216
Duluth and Northeastern (QTY:1) #35
Eastman Kodak (QTY:1) #8
E I DuPont Nemours and Company (QTY:1) #106-107
GM-Central Foundry Division (QTY:1) No number
Great Lakes Steel (QTY:1) #58
Hampton and Branchville (QTY:1) #120
Houston Belt and Terminal (QTY:3) #40-42
Inland Steel (QTY:4) #115-118
Jones and Laughlin Steel (QTY:2) #102-103
Kaiser Bauxite (Jamaica) (QTY:1) #5109
Mobil Chemical (QTY:1) #2
New Orleans Public Belt (QTY:6) #101-106
Public Service Company of Indiana (QTY:1) #1
Wisconsin Electric Power (QTY:1) No number
Youngstown Sheet and Tube (QTY:10) #905-914
Sources