The
EMD
SW1500 was a locomotive produced by EMD from 1966 to 1974. Intended as a switcher, the EMD SW1500 was very much capable of road duties and many are still used for this role today, this is further compounded by the fact most were delivered with Flexicoil trucks rather than
AAR
switcher trucks. Parts are still readily available for the SW1500 and, due to their reliability, are most likely to continue in serivce for the forseeable future.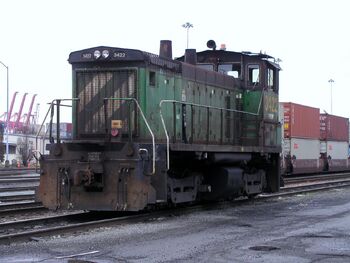 Technical Data
Edit
The EMD SW1500 was equipped with an EMD 12-645 of 1500hp(hence SW1500). It is capable of a top speed of 60 m.p.h and was equipped with straight air brakes.
Ad blocker interference detected!
Wikia is a free-to-use site that makes money from advertising. We have a modified experience for viewers using ad blockers

Wikia is not accessible if you've made further modifications. Remove the custom ad blocker rule(s) and the page will load as expected.