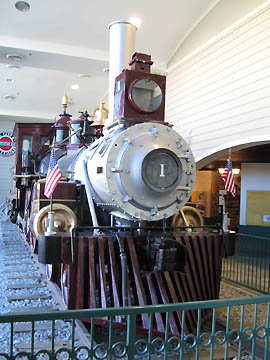 El Paso & Southwestern Railroad No. 1
is a type of 4-4-0 "American Standard"
steam locomotive
built in 1857 by Breese, Kneeland, and Company.
The locomotive was built for the Milwaukee & Mississippi Railroad Company in 1857 as their number 40 and named Spring Green. It was later renumbered 111 when the M&PdC was renamed the Milwaukee & St Paul Railroad in 1867; the railroad in turn renaming itself The Chicago, Milwaukee & St. Paul 1874.
In 1889, the locomotive was sold to the Arizona and Southeastern Railroad Company, as their number 1, later becoming the El Paso and Southerstern Railroad.
In 1903, it was retired, and around 1909, Locomotive No. 1 was overhauled, painted, and put on display in Downtown El Paso at the intersection of Stanton and Franklin Streets.
In 1960, the Southern Pacific Railroad (which by then absorbed the El Paso and Southwestern) donated it to the University of Texas at El Paso who displayed it near the Centennial Museum and Chihuahuan Desert Gardens.
In 1968, El Paso Historical Society and the Junior Chamber of Commerce raised money to build a shelter to protect this important national treasure from the elements.
In 2001 more than 1.1 million dollars of Texas State Transportation Commission and local matching funds were allocated for the removal and restoration of the locomotive.
Today it is on static display at the Railroad and Transportation Museum of El Paso in El Paso, Texas.
This locomotive is almost identical to the Union Pacific No. 119 because it has the same headlight, number plate, and smokestack.