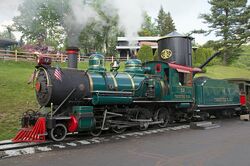 East Tennessee & Western North Carolina No. 12
is a 4-6-0 steam locomotive built by the Baldwin locomotive works in 1917 for the East Tennessee & Western North Carolina railway.
The engine used to haul passengers and freight trains over the ET&WNC's 66-mile line running from Johnson City over the Appalachian Mountains to Boone, North Carolina.
The engine ran train service from Johnson City, Tennessee to Boone, North Carolina from 1917 to October 16th, 1950 when the ET&WNC ceased operations of the 3 foot narrow gauge trackage from Elizabethton, TN to Cranberry, NC. The following year, scrapping of the line began and by 1952, the "narr'" gauge portion of the ET&WNC was nothing more than a memory.
In that year, the line began to place the last of the narrow gauge locomotives up for sale, the #9 (Baldwin, 1911), the #11 (Baldwin, 1916), and the #12. The 9 and 11 were sadly scrapped, but #12 was purchased by a group of railroad enthusiasts and was taken to Rockingham County, Virginia to operate as the small "Shenandoah Central" tourist line in 1952. In 1954, a hurricane washed out the tracks of the Shenandoah Central Railroad. In 1955, the locomotive was sold to cowboy singer and actor Gene Autry who planned to move the equipment to California, but that plan never happened. He then sold the engine to Grover Robbins, a real estate developer who would later start the Tweetsie Railroad in Boone, N.C. The Tweetsie Railroad opened in 1957.
Today the locomotive is still operational at Tweetsie Railroad along side engine #190, a former USATC S118 class 2-8-2 Mikado.
No. 12 is Tweetsie Railroad's first steam locomotive.
The locomotive is the last surviving narrow-gauge steam locomotive of the East Tennessee and Western North Carolina Railroad.
The engine used to wore a wood-burning smokestack.
Floodwaters from Hurricane Hazel washed out the Shenandoah Central in 1954, and Locomotive #12 was once again put up for sale. Hollywood actor Gene Autry optioned the locomotive with the intent to move it to California for use in motion pictures.
When the Tweetsie Railroad theme park opened with its first steam locomotive ride (one mile to a picnic area and back) in 1957, this was its sole locomotive.
In 2017, It was Thomas's helper for the Day out with Thomas cause #190 (Thomas's permanent helper) had maintenance work to be done.