Edward Thomas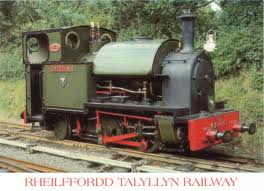 Edward Thomas
Details

Years built

1921

Builder(s)

Kerr, Stuart and Co. Ltd. Stoke-on-Trent, Staffordshire

Number Produced

Unknown

Years in Operation

1921 - Present

Fleet Numbers

Works Number 4047, Talyllyn Railway Number 4

0-4-2ST

Number Preserved

Unknown

Number Scrapped

Unknown

Dimensions
(l × w × h)

16' 8" Long

Gauge

2'3"
V - E - T - D
Edward Thomas is a type of 0-4-2ST narrow-gauge tank steam locomotive built in 1921 by Kerr, Stuart and Co. Ltd. for use on the Corris Railway, and was eventually purchased by the Talyllyn railway shortly after.
Edward Thomas worked on the Corris Railway, along with Sir Haydn, until the line's closure in 1948. He was purchased by the Talyllyn Railway in 1951 and named after its former manager. After repairs were carried out by the Hunslet Engine Co., the engine entered service on the Talyllyn in 1952 and has proved most successful. From 1958 until 1969 a Giesl ejector was fitted instead of a conventional chimney, the first such installation in the British Isles.
Until 2000, the engine ran in the guise of his "twin", Peter Sam, in red livery. He was then repainted into the British Railway black, the colour he might have acquired had the Corris line survived a little longer. An extensive overhaul, which included the fitting of a new boiler, was completed in late May 2004, and the engine returned to public service on the thirtieth of that month as "Edward Thomas" in unlined green livery.
He is currently running in the standard Talyllyn Railway livery of bronze with black and yellow lining.
Edward Thomas had a Giesl Ejector fitted on him for a small period of time due to having a large amount of exhaust, but was removed because the staff didn't see any improvement with the Giesl Ejector.
He is a Kerr Stuart Tattoo Class, of which 3 survive. Edward Thomas, Former Corris No. 4. No. 7 on the Corris Railway in Wales, and Stanhope, which currently runs on the Apedale Light Railway.
He is one of two locomotives to have the same number for four different railways: Corris Railway, Great Western Railway, British Railway and now Talyllyn Railway, Sir Haydn is the other one.
Edward Thomas is the basis of Peter Sam from Thomas and Friends.
was featured in Railways Restored - Wales 2.