Eversholt Rail Group (formerly HSBC Rail (UK) Limited) are a rail leasing company who operate in the UK. They own about a third of UK rolling stock on the national rail network. Thier main cometitors are Alstom and Bombardier.
Eversholt rail group
[[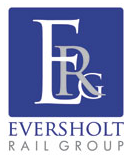 |300px]]
The current logo used by Eversholt.
Details

Founded

1994

Founder(s)

HSBC Bank inc

Headquarters

London (UK)

Products / Services

Rolling stock leasing.

Owner

Eversholt (formerly HSBC Bank inc)

Website
V - E - T - D
Eversholt was one of 3 Rolling Stock Companies (RoSCos) formed on privatisation of British Rail . It was owned by HSBC from 1997 – 2010. Eversholt is now owned by the Eversholt Investment Group, a consortium consisting of STAR Capital Partners, 3i Infrastructure plc and Morgan Stanley Infrastructure Partners.
Eversholt Rail's passenger rolling stock portfolio of 19 separate fleets comprises around 3,500 passenger vehicles, of which over 3,100 are electric–powered. These fleets range from 75mph suburban Electric Multiple Units (EMUs) to 140mph high-speed intercity trains. The company also owns a significant proportion of the UK's most modern Diesel and Diesel–Electric Multiple Unit (DMU and DEMU) fleets. Eversholt Rail also owns 83 freight locomotives and 920 freight wagons.

Eversholt Rail are also currently building a new fleet of MK11s for the East coast main line.
Ad blocker interference detected!
Wikia is a free-to-use site that makes money from advertising. We have a modified experience for viewers using ad blockers

Wikia is not accessible if you've made further modifications. Remove the custom ad blocker rule(s) and the page will load as expected.