Exeter St Thomas is a secondary suburban station serving the city of Exeter (althogth two HSTs stop there). It is operated by First Great Western, but also shares track with CrossCountry , South West Trains , & Freightliner.
Local buses also offer onward travel from the station. 
in May 1844, the South Devon Railway company was formed to extend the line to Plymouth and beyond. Isambard Kingdom Brunel was engaged as engineer, and he proposed that the largely untested atmospheric railway be used for the line. As the railway would extend the existing line, but be a different company, there was the opportunity to create a station closer to the city which would also serve as the headquarters of the railway.
The viaduct was widened in 1861 to accommodate a second track and a platform was added on the western side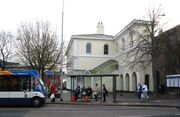 for the up line. A new two-storey station building was constructed on the eastern side replacing the booking offices. This is the elegant Italianate style structure that can be found today as the Imperial China Chinese restaurant. The new building contained a general and ladies waiting rooms, station masters office and toilets. A train shed that spanned both lines and platforms was built at the same time. Also on the upside a smaller, two storey building was also constructed with a waiting room and toilets.
In 1970 the train shed and station building on the up line were taken down, during the time when Cowick Street was largely demolished and rebuilt. The land in front of the main station building became a wasteland and car park until it was redeveloped by Sainsbury's in the late 1980's.
The ststion only has two platforms, offering servies on the Tarka Line up and down, and a HST stops there twice a week (but regualr service will be resumed in 2017).
The station has an abandoned third platform parallel from platform one.
It used to be the HQ for First Great Western.
Ad blocker interference detected!
Wikia is a free-to-use site that makes money from advertising. We have a modified experience for viewers using ad blockers

Wikia is not accessible if you've made further modifications. Remove the custom ad blocker rule(s) and the page will load as expected.