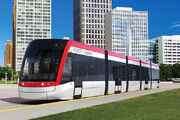 The Bombardier Flexity Freedom is a low-floor LRT (Light Rapid Transit) tram currently being marketed and built by Bombardier Transportation. It is designed for North American LRT operations.
These cars will feature 100% low floor interiors, and have the option of operating catenary-free (collecting power via induction). They come in either 3 or 5 sections, with 2 or 3 powered bogies, 2 to 4 doors on each side, respectively.
Metrolinx is the launch customer for the Freedom; with cars being built for both the Eglinton LRT in Toronto, as well as the ION LRT in Kitchener-Waterloo, Ontario.
Ad blocker interference detected!
Wikia is a free-to-use site that makes money from advertising. We have a modified experience for viewers using ad blockers

Wikia is not accessible if you've made further modifications. Remove the custom ad blocker rule(s) and the page will load as expected.