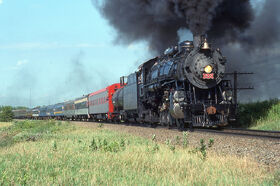 Frisco No. 1522
is a type of 4-8-2 Mountain type steam locomotive. It was built by the Baldwin locomotive works in 1926 for the St. Louis–San Francisco Railway. The 1522 was built to handle Frisco's heavier passenger trains through the hilly Ozark regions. Five other examples of Frisco Mountain-type locomotives are preserved today throughout America. Many rail fans regard the 1522 as the "The Loudest Steam Locomotive in the World" due to its exceptionally loud exhaust blasts, particularly when working hard.
The 1522 was originally retired about 1951. Later, the SLSTA started the restoration the locomotive in 1985 and the 1522 entered its second career in 1988. Due to money increasing on her career, she was returned to retirement in 2002, and is on static display at the Museum of Transportation in St. Louis, MI.
1522's Excursions
Edit
1988: Inaugural run to Decatur, Illinois.
1989: Inaugural run to Moberly, Missouri.
1990: 1522 pulled a 22-car excursion over Rolla Hill during the 1990 NRHS annual convention. The locomotive also did a double-header excursion with the Union Pacific No. 844 for the convention.
1994: 1522 was one of the locomotives to participate in the 1994 NRHS annual convention in Atlanta, Georgia and did a double-header with the Norfolk And Western No. 611 from Birmingham, Alabama to Atlanta, Georgia on its way to the convention.
1995: The locomotive was the special guest of the annual haymarket heyday and did several excursions between Omaha and Lincoln, Nebraska.
2001: 1522 was invited to pull the Burlington Northern Santa Fe annual employee appreciation special which included a historic tour through the state of Texas. One week later, 1522 was invited to pull several excursions for the 2001 NRHS annual convention.  
2002: It was announced that 1522 was to be put back into retirement as the result of increased insurance rates. On September 28, 2002, 1522 did a farewell excursion, and on September 29 it was put back into retirement.
2011: In January, a rumor started to spread among preservationist that the 1522 had been sold to a private individual in California for restoration. The rumor started with a prank phone call by a 13 year old child, Joseph Jackson, of St. Louis. The rumor was quickly put down when Jackson came clean a few days later.
As of today it is now a major exhibit at the Museum of Transportation in St.Louis, Missouri.