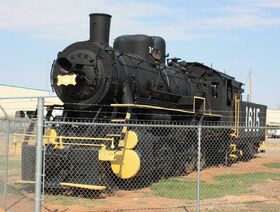 Frisco No. 1615 is a type of 2-10-0 Decapod steam locomotive. It was built by Alco in 1917 as #58829, for Russia but was diverted as USRA 1015 because of the Russian Revolution.
It was converted to Standard Gauge, and given to the Pennsylvania Railroad, before being purchased by the St. Louis–San Francisco Railway. It was originally operated as a mixed traffic engine when it was owned by the St. Louis–San Francisco Railway until the end of steam on the St. Louis–San Francisco Railway during the 1950's.
After it's withdrawal it was sold to Eagle-Picher in November of 1951 who used it to haul lead ore to a smelting plant.
It is now on static display at the South City Park in Altus, OK.
Ad blocker interference detected!
Wikia is a free-to-use site that makes money from advertising. We have a modified experience for viewers using ad blockers

Wikia is not accessible if you've made further modifications. Remove the custom ad blocker rule(s) and the page will load as expected.