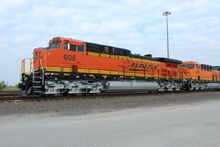 Another Dash 9 rebuild program, this time between BNSF and GE, is aiming to create A-1-A AC-traction units. BNSF 616, a former ATSF C44-9W was shipped off to the GE shop in San Luis Potosi, Mexico back in early 2014. The unit received extensive rebuilding including an overhauled 7FDL-16 prime mover, AC traction equipment, and new A-1-A trucks.  BNSF's goal is to create A-1-A "AC4400CW's" out of the 600-series of C44-9W's. The unit has been at the Southwest Research Institute in San Antonio since last August for extensive testing. It is expected to return to Topeka, KS soon. As of July 2015, most of the 600-series units have been stored around the system. Only one unit is still operating, the 647. These units are being sidelined for rebuilding by GE to AC44C4M's. 600, 601, 603, 604, 608, 609, 614 and 618 are the units currently at San Luis for rebuilding. A video has surfaced showing #600 complete and on its way back to the US. GE is on track to complete 20 of the AC44C4M rebuilds by the end of 2015. 600, 601, 608 and 616 have entered service.
See unit #600 on its way home: https://www.youtube.com/watch?v=dCM8pjRfED0
See the unit back in 2014. http://www.rrpicturearchives.net/showPicture.aspx?id=3924370
See the 616 in action in this video: https://www.youtube.com/watch?v=fP_0A6E7Oz8
Ad blocker interference detected!
Wikia is a free-to-use site that makes money from advertising. We have a modified experience for viewers using ad blockers

Wikia is not accessible if you've made further modifications. Remove the custom ad blocker rule(s) and the page will load as expected.