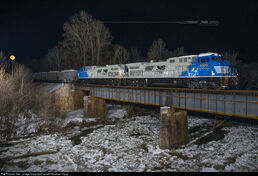 Building off of the BNSF program, NS and GE embarked on a rebuild initiative very similar to the AC44C4M program. The goal here is to turn NS's C40-9 (standard cab) into wide cab AC-traction locomotives - essentially a new AC4400CW. Unlike the BNSF program, these will use C-C trucks (six powered axles) vs. A1A-A1A (four powered axles, middle axle of each truck unpowered) arrangement. The C40-9's undergo an extensive rebuild : A new wide cab, AC-traction equipment, emissions upgrades, new trucks and they are ballasted to 432,000 lbs. Norfolk Southern is planning a much more ambitious program than BNSF as NS wishes to rebuild all 125 C40-9's and then move to their C44-9W fleet which is more than 1200 units strong. The rebuild work is being contracted out to American Motive Power (AMP) in Dansville, NY by GE or being done by NS at Roanoke. Two units were completed and released in December 2015. 4000, and 4001 were rebuilt in 2015 from 8799 and 8879, respectively. They are in a striking version of the NS scheme - light blue and grey with yellow stripes. 16 AC44C6M's were completed by GE (12) and NS (4). 50+ rebuilds are on the books for 2017 with work being split between NS Roanoke, NS Juniata and GE Fort Worth.
2017: NS #4001 was wrecked in the spring and is at Juniata pending evaluation.
Ad blocker interference detected!
Wikia is a free-to-use site that makes money from advertising. We have a modified experience for viewers using ad blockers

Wikia is not accessible if you've made further modifications. Remove the custom ad blocker rule(s) and the page will load as expected.