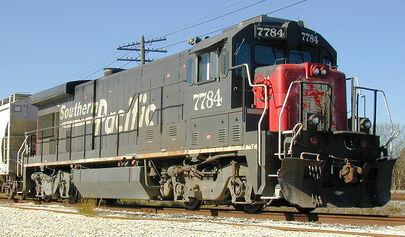 The B30-7 was the second B-B Dash 7 to be introduced. Production began in 1977, The B30-7 was a sucessful locomotive with 199 standard B30-7's outshopped, 58 B30-7A's manufactured, 22 B30-7A1's produced, and 120 cabless B30-7A(B)'s built. The B30-7' started production using a 7FD16 prime mover, then, like the C30-7A, the B30-7's prime mover was changed to a 7FDL12 prime mover churning out the same 3,000 hp. The B30-7 and other GE Dash 7 locomotives have become somewhat popular with shortlines. A B30-7 (standard) is rostered by the West Tennesse (WTTN), also three B70-7AB's are on Central Michegean's roster.
B30-7A: used a 7FDL12 prime mover and turbocharger to achieve 3,000 hp output. 
B30-7A1: bought only by Southern. These 22 units had relocated blower equipment from the radiator section the the cab end of the hood. This was necesarry to accomadate the Southern's request for more powerful dynamic brakes. 
B30-7A (B): These units were cabless B30-7A's. Ordered only by BN. Ordered in two phases.
Who bought what?
Edit
C&O: (QTY:64) B30-7's, #'s 8235-8298.
MP: (QTY:55) B30-7A's, #'s 4800-4854.
SLSF (Frisco): (QTY:8) B30-7's, #"s 863-870. First B30-7's built. 
SSW: (QTY:26) B30-7's, #'s 7774-7799.
SCL: (QTY:17) B30-7's, #'s 5500-5516.
SP: (QTY:84) B30-7's, #'s 7800-7883.
SOU: (QTY:22) B30-7A1's, #'s 3500-3521.
Ad blocker interference detected!
Wikia is a free-to-use site that makes money from advertising. We have a modified experience for viewers using ad blockers

Wikia is not accessible if you've made further modifications. Remove the custom ad blocker rule(s) and the page will load as expected.