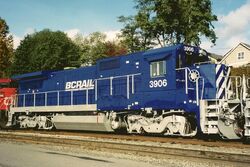 The General Electric B39-8 is a type of four-axle, 3,900hp diesel locomotive built from 1984 to 1992 (with official production beginning in 1985).
146 were built.
The B39-8 was a moderate success.Yet, not too long after the B39-8's initial production began, the more reliable and slightly more powerful B40-8 was introduced.
The B39-8 was originally built or intended for high-speed intermodal freight services, yet didn't receive many orders or popularity. Although they became popular with the Southern Pacific, the SP ordering 40 units, and Locomotive Management Serivices (LMX Leasing) Purchasing 102 B39-8E's, the initial 100 unitorder and two wreak replacements. ATSF also rostered three Testbeds.They served the SP as well as LMX and ATSF up until the mid-1990's during the "Mega Merger" era, when the ATSF merged with the Burlington Northern (BN) in 1995, as well as the UP purchase of the SP in 1996.
They were eventually used as spare units until ultimately becoming retired due to four-axled diesel locomotives no longer being a priority on mainline trains for US Class 1 railroads. 
Several B39-8 units still remain on UP's roster but are not used. While the majority of the LMX units are in storage at places like NRE at Silvis, Illinois. Some however are still in regular service today, including on the P&W, and CSOR (G&W). Also in 2012 G&W purchased 14 retired UP GE's, 13 B39-8's and a B40-8 for its AZER property.
The Burlington Northern once shared a long-time contract with LMX Leasing over their use of B39-8 units (as with Oakway Leasing's fleet of EMD SD60 units). The contract lasted long into the BNSF merger, yet was discontinued around 2005. 
ATSF had the smallest fleet of B39-8 units, with them only having 3; all which were the original demonstrator prototype units, which resemble the original B32-8 units.
The B39-8 was BC Rail's last type of locomotive purchased by the railroad, as well as the most short-lived. Most remaining BC-painted B39-8 units still have their "factory-fresh" paintscheme due to the fact that some were never even used due to the CN's purchase. (The CN only used a handful of these units as spare units, yet neglected using them.)
Like with their only SD60 units, the BN briefly used a set of demonstrator B32-8 units from GE (as mentioned numerous times in the article), yet actually had a brief ownership of the units before eventually receiving a lease offer from LMX which proved to be more affordable as opposed to actually owning their own fleets of B32-8 or B39-8 units.
As of 2013, two of the three B32-8 prototypes still exist as well as the B40-8W prototype and B39-8 demonstrator; all which are owned by GECX (General Electric Company Leasing.) The units reside in GE's test fleet.
Ad blocker interference detected!
Wikia is a free-to-use site that makes money from advertising. We have a modified experience for viewers using ad blockers

Wikia is not accessible if you've made further modifications. Remove the custom ad blocker rule(s) and the page will load as expected.