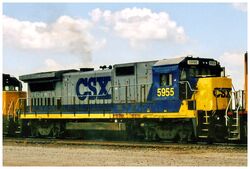 The General Electric B40-8 (Dash 8-40B) is a type of four-axle, 4,000hp diesel locomotive built from 1989 to 1994. It is practically the four-axled version of the Dash 8-40C (or simply C40-8). It uses a 7FDL16 prime mover
Many still exist, but some are stored.
The B40-8 was the last major production model of four-axle diesel locomotive produced by GE. The very last 4-axle GE locomotive was ATSF #582, a B40-8W.
Although originally intended for high-speed freight service, it was gradually bumped from that service to lower-priority freight, as train weights increased and 6-axle locomotives began to be utilized in high-speed service. 
Its 6-axle counter-part, the C40-8, surpassed the B40-8 in rapid sales, production, and popularity.
The GE Genesis Series was originally considered to be part of the GE Dash 8 Series, as well as being a modified B40-8 because of how similar their components and controls are. Yet, the GE Genesis Series (obviously) developed into its own independent or individual series or locomotive line.
CSX, Union Pacific, Cotton Belt (including the Southern Pacific), Conrail, ATSF and the NYSW were the original railroad customers to purchase the B40-8.
BNSF is starting to sell it's B40-8W fleet, 20 units have been sold so far. Units oporate on the P&W,NERR,GWRS, and AOK.
CSX's current B40-8 fleet also consists of former NYSW B40-8's, which have since made CSX's B40-8 fleet larger than what it originally was before the purchase of Conrail. (With CSX only having about 15 of these units originally.)
Conrail's first fleet of B40-8 units had special banners applied to the front hoods to promote their high-speed intermodal service.
CSX recently downgraded several of their B40-8 units into "B20-8" (2000 hp) units as a result of maintenence costs and warranty issues.
In mid 2017, CSX retired all the B40-8 units and was sold to Pan Am Railways and other railroads.