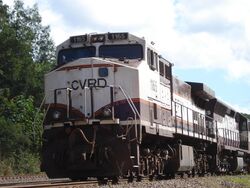 The GE; General Electric; BB40-9W is a type of double or combined four-axled (B-B+B-B, or Bo'Bo'+Bo'Bo') 4,000hp narrow-gauge diesel locomotive built for railroads in the Latin American region (mainly Brazil).
The BB40-9W is actually a unique lightweight, double four-axled narrow-gauge version of GE's Dash 9 (GE C44-9CW.)
The BB40-9W began as a replacement for older, low-horsepowered narrow-gauge diesel locomotives built by ALCO; aside from the old ALCO's replacing the once-aging narrow-gauge 2-8-2 'Mikado' and 2-8-0 'Consolidation' steam locomotives used on the long, narrow, steep, and mountainous railways of Brazil. They proved to be successful after numerous tests and demonstrations with their older, preceding counter-part; the GE BB33-7 (narrow-gauge double or combined four-axled version of the B23-7, B30-7, B36-7, C30-7, or C36-7; rebuilt from such types of Dash 7 Series units); successfully hauled freight with the old ALCO locomotives during a demonstration near Rio De Janeiro, Brazil. Hence, the rare BB33-7 (with only 10 produced) being used as a "spare unit" (or for compatibility for the BB40-9W), and thus the BB40-9W becoming the standard narrow-gauge locomotive for the Latin American Railways Group (ALL).
The BB40-9W had more units produced than any other type of narrow-gauge diesel locomotive.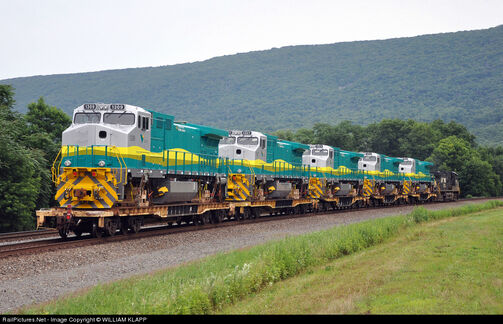 It is commonly seen on railways in Brazil, but can occasionally be seen in Columbia and other countries near or bordering Brazil on some of their narrow-gauge lines.