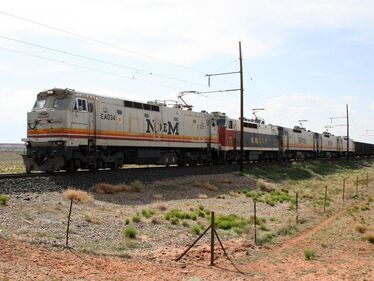 E60 is a C-C electric locomotive built by General Electric. It is designed for freight service. It is used in Amtrak and Black Mesa and Lake Powell Railroad. There are several versions of E60's: E60C, E60CP, E60CH, and E60C-2. 
Black Mesa and Lake Powell Railroad (BM&LP) ordered 6 E60C's between 1972 and 1976 to transport coal 78 miles from the Black Mesa Mine to the Navajo Generating Station power plant. These E60C's have only single cabs and single pantographs. These units except 1 E60C have been replaced by Ex-FNM E60C-2's.
E60CP and E60CH
Edit
Amtrak ordered 26 E60's between 1974 and 1976. The E60's were 7 E60CP units with steam generators for older passenger equipment, and 19 E60CH units with newer HEP generators for the new Amfleet equipment.
NdeM ordered 39 E60C-2 locomotives, built between September 1982 and December 1983. All of the E60C-2s have been offered for sale, and 22 of them were sold back to GE for more GE AC4400CWs. Three E60C-2s were sold to Texas Utilities. BM&LP acquired 8 E60C-2s 6 are in service to replace all but 1 of their own aging E60Cs. The Deseret-Western Ry, now Deseret Power Railway has two original, and 5 former NdeM units as well.
Other Links

Edit
Click here to watch a video of a E60 hauling freight.>>[1]
Ad blocker interference detected!
Wikia is a free-to-use site that makes money from advertising. We have a modified experience for viewers using ad blockers

Wikia is not accessible if you've made further modifications. Remove the custom ad blocker rule(s) and the page will load as expected.