In 1946, soon after the devastation the Soviet Union faced in its absolute victory over the fascist empire of Germany, the Soviet Secretary of Transportation placed an order for 20 heavy freight 2-D+D-2 (Whyte Notation 4-8-8-4) electric locomotives with General Electric (GE) to aid in their rebuild efforts. GE designed its model 2-D+D-2 406/546 8-GE 750-3300V, which was built to the Russian Gauge of 5ft. They featured symmetrical streamlining resembling a double-ended F-unit, however, they had large porches protruding from the nose of the locomotive instead of having the front of the locomotive located right at the nose. The streamlined pilot did still look like the pilot of F-series diesels though.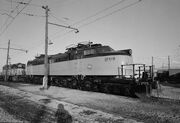 Order Cancellation
Edit
After 12 locomotives had been constructed, the United States Government actually stepped in and demanded GE cancel the order and prohibited them from shipping the completed locomotives to the Soviet Union. This was a result of the US's competition with their former ally, the Union of Soviet Socialist Republics, by denying them any relief effort or rebuilding assistance under the Marshall Plan, despite the undeniably immense role the USSR played in crushing the German Reich. Thus, GE became stuck with 14 broad gauge locomotives incompatible with the standard gauge railways of North America. Naturally, then, it decided to finish the order's six remaining locomotives in 4' 8" standard gauge and began seeking customers, offering in-house conversion of the existing locomotives to standard gauge as well. At first, the Chicago, Milwaukee, St. Paul, & Pacific Railroad (Milwaukee Road or MILW) offered to buy them for its electric lines in Montana, Idaho and Washington State. The railroad offered $1 million for the 20 locomotives and spare parts,, a total barely beating their combined scrap value. GE accepted the offer, but for whatever reason, the money never came through and the MILW did not acquire the locomotives.
Successful Deals
Edit
After the MILW deal fell through, two other railroads acquired 8 of the locomotives. The Chicago, South Shore & South Bend (CSS&SB) purchased 3 standard gauge locomotives and some spare parts for use on its electric segments. Five more plus the remainder of spare parts went to the Brazilian broad gauge Companhia Paulista de Estradas de Ferro. This meant there were 12 locomotives of mixed gauge and no spare parts remaining by the beginning of the Korean War. The War also MILW recognize its lack of motive power, which was compounded by a coal strike which affected it Lines East steam locomotives which still burned coal. It went back to GE looking for the 2-D+D-2 engines once more. GE thought it appropriate to price the remaining engines, without spare parts, at 1 million dollars. MILW agreed and purchased the remaining locomotives after conversion to standard gauge.