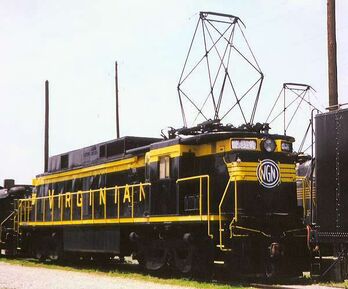 The GE EL-C was a type of electric locomotive. The locomotives were delivered to the Virginian between October 1956 and 1957 and numbered 130-141. GE used then-new Ignitron rectifier technology, first used on the experimental Pennsylvania Railroad E2c and E3b locomotives. Although this same technology was used with less-than-optimal success on the earlier EP-5 locomotives built for the New Haven it worked on the Virginian's EL-Cs due to the much larger area available in the EL-C (which lacked the steam generator/fuel tank and weight restrictions necessitated in the EP-5). These units were folded into the N&W roster when VGN and NW merged, then the locomotives were reclassed E33's when they were conveyed to Corail in 1976.
Ad blocker interference detected!
Wikia is a free-to-use site that makes money from advertising. We have a modified experience for viewers using ad blockers

Wikia is not accessible if you've made further modifications. Remove the custom ad blocker rule(s) and the page will load as expected.