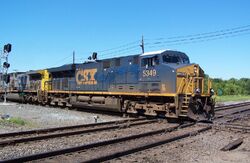 The ES44DC was a popular locomotive in GE's catalog. Railroads that had DC traction policies, like CN and NS, favored the ES44DC for quite a while. Due to the obsolescence of DC traction, GE has omitted the ES44DC from its catalog since late 2010. The recently developed ES44C4 also served as familiar replacement. BNSF, CN, CSX and NS were the largest customers of the DC GEVO. NS deviated from the norm by ordering all of their ES44DC's at 4,000 hp. These units carry the designation ES40DC. A variant of the ES44DC is still manufactured for Rio Tino operations. These units are ES44DCi's. The increase in radiator length is to accommodate massive cooling needs in the Australian Outback. CN was the last customer to order D.C. traction locomotives. In 2012 CN placed its first AC locomotive order for 35 ES44AC's [1] . There are no EPA Tier 3 ES44DC's except for ten preproduction units from 2010 on the BNSF. BNSF #7695 wears a yellow swoosh instead of the regular black swoosh.
Ad blocker interference detected!
Wikia is a free-to-use site that makes money from advertising. We have a modified experience for viewers using ad blockers

Wikia is not accessible if you've made further modifications. Remove the custom ad blocker rule(s) and the page will load as expected.