The GE P30CH, nicknamed "Pooch" by rail-fans and engineers, were 3000hp six axle locomotives with a C-C wheel arrangement. They were the first locomotives owned by Amtrak to possess head end power, provided by two Detroit Diesel 2 stroke generator sets made by their competitor GM. The engines in these Gen Sets were not unlike scaled down EMD 645s. Their prime mover consisted of the GE 7FDL-16 and the transmission consisted of a GE GTA11 and the final drive was provided by 6 GE 752 traction motors geared to the axles with a 75:28 gearing.
Unfortunately they proved to be far less reliable than their freight cousin the U30C and as a result all were scrapped in 1992. The unreliability is suspected to have stemmed from the Head End Power system with it's 2 gen sets.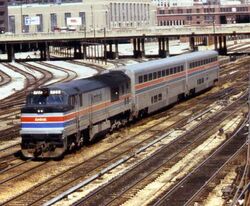 When Amtrak took over passenger trains across the USA in 1971, it sought to replace most of its older E- and F-units it inherited. While the SDP40F was chosen as the primary long-distance unit, Amtrak also agreed to purchase 25 P30CH units from GE.
They were used by amtrak between 1975 and 1992 and during this period several were leased to Caltrans and the Southern Pacific.
After over a decade of intelorable unreliability, all were scrapped in 1992 and their final duties consisted of the "Sunset Limited" and "Auto Train" services.
http://www.trainorders.com/discussion/read.php?11,1292937
Ad blocker interference detected!
Wikia is a free-to-use site that makes money from advertising. We have a modified experience for viewers using ad blockers

Wikia is not accessible if you've made further modifications. Remove the custom ad blocker rule(s) and the page will load as expected.