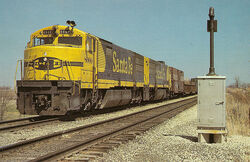 The GE; General Electric; U30CG is a type of six-axle, 3,000hp diesel locomotive built during 1967 specially for the ATSF (Santa Fe) railroad with only six built.
They were originally meant to compete with the EMD FP45, but ultimately failed, with all six units scrapped in 1980.
The GE U30CG was initially a completely different version of GE's earlier U28CG as well as a modified passenger version of the U30C, only built with a cowl body. The U30CG was also one of the last passenger locomotives ever purchased by the ATSF (Santa Fe) railroad, as well as the units being some of the last to wear the 'Warbonnet' livery until the scheme was eventually revived in 1990. The ATSF also originally planned or intended to order a fleet of more units, but decided to purchase more F45 and FP45 units instead; thus, the U30CG ultimately failed the competition with the F45/FP45 from EMD, and GE decided to focus on more types of freight locomotives. (Hence the development of the Dash 7 series during the 1970's; or the turn of the decade from 1967 to 1970.)
They served their purpose on passenger trains from the time they were built until when the ATSF discontinued passenger service in 1971; as the ATSF being one of the US railroads to discontinue passenger service due to the formation of Amtrak the same year.
Like the FP45, the U30CG was converted to freight service; having their steam generators removed, being repainted and renumbered.
Ad blocker interference detected!
Wikia is a free-to-use site that makes money from advertising. We have a modified experience for viewers using ad blockers

Wikia is not accessible if you've made further modifications. Remove the custom ad blocker rule(s) and the page will load as expected.