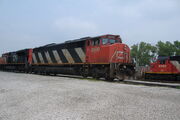 The GMD Canadian Cowl units are cowl-bodied versions of standard EMD locomotives produced exclusively for Canada's two major railways, Canadian National and Canadian Pacific. They were built in order to cope with the country's harsh winter climate. To address visibility issues, these locomotives were built with a "draper taper," where the body is narrower immediately after the cab, then gradually widens.
Three main types were produced; the SD40-2F, the SD50F, and the SD60F.
These are basically SD40-2 locomotives with a cowl body. They can be identified from other Canadian cowls by their "triclops" windshields, and ditch lights mounted under the anticlimber. Only Canadian Pacific has purchased these. They are numbered 9000-9024.
These are SD50s built with a Canadian cab and cowl body. Only CN has purchased these. 60 were produced, and were numbered 5400-5459. They can be identified by their "lampshade" ditch lights mounted above the anticlimber. Like their American cousins, they suffered from reliability issues.
These are SD60s built with a Canadian cowl and carbody. 64 were produced for Canadian National, and numbered 5500-5563. They are virtually indistinguishable from the SD50F, save for the fleet number.
Ad blocker interference detected!
Wikia is a free-to-use site that makes money from advertising. We have a modified experience for viewers using ad blockers

Wikia is not accessible if you've made further modifications. Remove the custom ad blocker rule(s) and the page will load as expected.