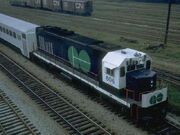 The General Motors-Electro Motive Divison GP40TC was a four-axle passenger diesel locomotive developed exclusively for GO Transit. They were essentially EMD GP40s built on an SD40 frame, to accommodate HEP equipment. They were the first production locomotive in North America to be factory equipped with HEP.
8 units were built, and they operated from 1966 to 1988, when they were retired and sold to Amtrak. They have since been rebuilt into GP38H-3s, and continue in service today as switchers.
When the Government of Ontario first proposed the idea for a commuter rail, it was decided that the locomotives and cars would be based off of existing locomotives, so they could be sold off should the system fail. With that set in mind, the government placed an 8-unit order with General Motors of London, ONT, for the motive power. They were designated "GP40TC," with the "TC" standing for "Toronto Commuter."
Fortunately for the Government, the system was an instant success and was soon choked to its limits
They are unlike any GP40 ever built; they are evidently longer, as due to the HEP generator they were built on an SD40 frame. The nose has been shortened as well-they were only 60 inches long as opposed to the 81 inch nose found on other GP40s.
The HEP systems of these units were known to produce a very shrill whine, which the residents living near the GO Willowbrook yard found extremely annoying. Installation of lineside power and sound-deadening material solved this problem.
Due to the cramped space the HEP generators were installed in and the difficulties in servicing them, amongst other reasons, GO made the decision to order locomotives without HEP generators (and instead use rebuilt FP7s and F9Bs to supply HEP) until 1988, when they and GMD designed the F59PH.
The GP40TC units were numbered 500-507, and were classed by CN as GCE-430a.
All were retired and sold to Amtrak by 1988, being replaced by the first F59PH order. They have been rebuilt to GP38H-3 specifications, and continue in service today.